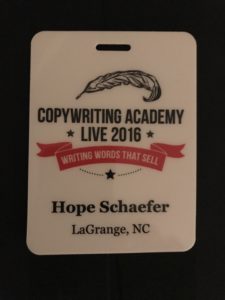 Certain moments change your life forever. What's ironic is quite often when you make a seemingly small decision, you don't realize you're actually standing at a major crossroads of your life.  Once you pass through the intersection, there really is no turning back.
"Will you join my team as a coach at Copywriting Academy Live?" Ray Edwards asked. I can't adequately describe the simultaneous feelings of shock, gratitude, and terror that overtook me at that moment. Thank goodness we were not on a Zoom call, because Ray might have retracted his invitation if he had seen my beet red face and my deer in the headlight panic. Somehow I found enough breath to simply whisper, "Yes, Ray. Thank you."
I joined Ray's Edwards' Regency Mastermind a year earlier while I was blogging about divorce. Once I published my book, Finding Hope Beyond Divorce, I was ready to close that painful chapter of my life and move on.
Since I was in Ray's Mastermind with Mike Kim and some other amazing copywriters, I was certain of my next steps. I kept my day job, but I purchased Copywriting Academy and threw myself 100% into learning everything I could from the course and from Ray on our weekly Mastermind calls.
As a sales professional for two decades, I understood the importance of messaging. I had contributed to the success of pharmaceutical products that had achieved blockbuster status and I had also help to launch brands that fizzled and fallen miserably short of sale projections.
I knew from experience the power copywriting has on the success or failure of a brand. Good products can fail because of bad sales copy.
Each week as Ray and the members of the Regency Mastermind discussed various business related issues, we often came to the same conclusion, "Your problem is simple, you have a COPY problem."  All roads lead back to the copy.
Ray taught us the PASTOR framework and he also convinced us that copy either leads to confusion or it leads to clarity, there is no middle ground.
During the months between Ray's invitation to coach and my arrival at Copywriting Academy Live, I played the audio of his course repeatedly. Copywriting Academy was on as a continuous loop in my car as I drove around eastern North Carolina performing my sales job. Each mile I drove, I listened to Ray teaching the concepts of how to write effective sales copy.
During the weekends, I outlined the chapters, make study cards, and practiced copywriting by completing all of the exercises in the course. I wanted to be prepared for any questions I might encounter at Copywriting Academy Live. During this time, I also worked on some copywriting projects for a few of my friends.
Ray expected me to coach his students just as he would coach them, so I memorized all the principles outlined in Copywriting Academy. Before the event, Ray taught us the concepts of coaching. Through all of my preparation to become a sales copy coach, I became a better copywriter.
During Copywriting Academy Live, I was able to coach close to 30 business owners. The types of businesses varied, yet the concepts of Copywriting Academy applied to all of them.
Before one of the sessions, I had the honor of introducing Ray to the crowd and I also participated in a panel discussion.
Coaching, speaking, and copywriting changed the trajectory of my life. Copywriting Academy Live was the catalyst that changed my passions and propelled me into an exciting, unscripted future I never anticipated.
Since enrolling in Copywriting Academy and coaching at Copywriting Academy Live, I've written copy for brands like Beautylish, Michael Hyatt, Mike Kim, Fishman Haygood, Drama Free Teams, and Duck Donuts. My experience as a copywriter has opened doors for me to consult with many amazing companies.
Ray Edwards' invitation to coach at Copywriting Academy Live was a crossroads moment for me.
His handwritten note hangs above my desk and reminds me every day, "Hope, you were born to write."  
When Ray shared his platform, he gave me the push and the opportunity I needed to uncover my gift of coaching and consulting.  
Up until that moment, I had viewed myself as a salesperson and then a copywriter, but I never realized my real "superpower" was in coaching and consulting with business owners to help them clarify their messages so they generate growth.
Fast forward two years. Because of Copywriting Academy, I decided to retire from my career in pharmaceutical sales with GlaxoSmithKline and now I own my own business.
I work as a brand strategist, copywriting coach, and StoryBrand Guide. I help businesses stop wasting money on marketing that doesn't work and create messages that sell.
If your brand is falling short of your 2018 projections, I bet underneath all the finger pointing and blame games you will uncover a COPY problem.
I'm not an affiliate for his course but go to RayEdwards.com if you'd like to become a copywriter. He just opened the cart and you can only purchase Copywriting Academy for a few more days.  
I live in a small town in eastern North Carolina. I graduated from high school when Ronald Reagan was president. I'm a single mom. It took me a while, but I realized it wasn't too late to follow my dream. I simply had to get out of my own way. So, if you're ready to make a change in your career or if you're trying to grow your business, it's time to stop making excuses.
I'm an example of the amazing things that can happen when you purchase a high-quality online course, learn from a wise mentor, surround yourself with people who are geniuses in business and work hard to become an expert in your craft.  
I'd love to hear about the crossroads in your life and how you've navigated your way forward.  Email me at Hope@hopeschaefer.com